Searching for childcare centres is now made way easier with robust childcare search solutions like Space.
Find the best childcare center for your child
There are more than 16,000 child care centres all over Australia, and there could be dozens of child care services near you. The goal, of course, is to find the best childcare service, the pick of the litter.
What better way to do that than to rely on advanced search solutions that bring you instant results? Space fills this gap in the simplest, most intuitive way. The platform is your ultimate child care finder, giving you the best results in just 3 steps:
Search
Just go to space.myxplor.com and then key in your suburb. Space covers all suburbs in Australia, giving you the scope and expanse you need to come across your best pick.
You will then be given the search results of childcare centres in your area with a map for quick and easy reference. You can click on each result to view their corresponding details and tap 'heart' to include the centre in your shortlist. Maximising this shortlist feature can make your decision-making process so much easier and allows you to really choose the best childcare service for your child.
Compare
Compare your shortlisted centres by checking the comprehensive details Space provides. As you click on each centre profile, you can see the parent reviews, ACECQA quality ratings, service descriptions, full rate fees, centre hours, inclusions, gallery, and more. From here, you can learn if the centre follows the national quality framework, if they have mobile services, and if they cover school holidays or offer family day care services as well. Comparison is made easier with complete data right in front of you. Shortlist the services whose location, rate, inclusions, curriculum or operating hours match your needs.
Enquire
After sifting through your options and coming up with your final shortlist, just click the enquire button to reach out to the service, express your interest, and ask any further questions you have.
Booking a tour and processing enrollments can also be done within the platform. It's a one-stop solution for your childcare needs.
Why Choose Space?
Space is quickly getting a foothold in the Australian childcare sector because of its straightforward, all-inclusive approach as a childcare finder. The following are the main reasons more and more families are choosing Space:
Easy to use
When it comes to interface, Space is as intuitive and straightforward as it can be. Parents can achieve their goals within the platform in a simple, no-brainer kind of way.
Amazing Support
Users can make the most of Space Live Chat support that can immediately help them whenever they have questions or need further assistance.
Comprehensive Centre Details
Every listing has all the information families need. We leave no stone unturned, and we want parents to see all the data they need in one glance, saving them time and effort and helping them find the best childcare service for their children.
Actual Reviews
Every listing also has the childcare centre's Space reviews and/or Google reviews. This way, you can easily check the actual feedback of other Space users and other families online.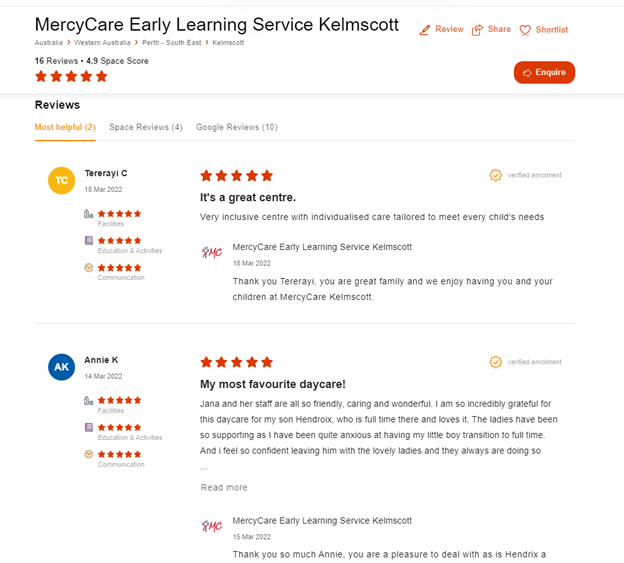 Helpful Resources
We further add value by giving you guides as to childcare, parenting, family day care service, and early childhood education. We talk about childcare subsidies, managing toddlers, national quality standard, supporting preschoolers, and other articles and tips that can help readers become even better caregivers for their children. You can also subscribe to our newsletter to receive instant updates about the regular stream of resources we send out.
FAQ
Here's more information about Space and everything the platform has to offer.
What is Space?
Space is a robust child care finder in Australia, founded by Mark Woodland. Our goal is to build amazing technology to transform how childhood education and care work in Australia.
Is it free to use Space?
Using Space to conveniently find a child care centre is definitely FREE of charge. You'll also pay the same amount as you would if you go direct.
What types of child care services can I find on Space?
Through Space, you can find child care centres for the following services:
Long day care
Before school care
School hours care
After school care
Vacation care
Kindergarten
Reach out to our site's live chat support if you need further information and begin your child care search with your new trusty partner, Space.